Integrate Accela with Velosimo Connectors
Revolutionary Integration Connectors for Accela
Velosimo has partnered with Accela to provide no-code, easy-to-use, off-the-shelf integration connectors built for the business user in Government. Easy to set up, so your agency and citizens realize the benefits of a modern, connected experience quickly.
With dozens of integrations to modern solutions for Digital Citizen Services, Electronic Document Management, Document Review, e-Signatures, Enterprise, Financials, Payments, and Utilities, including no-code integration connectors for Open Counter, Cityworks AMS, GovOS SeamlesDocs, ESRI ArcGIS Survey123, e-PlanSoft e-Plan Review, Bluebeam Studio Prime, Adobe Sign, DocuSign, Laserfiche, Microsoft Sharepoint, Google Drive, Velosimo Shopping Cart, System Innovators inovah, Tyler Cashiering, and LexisNexis.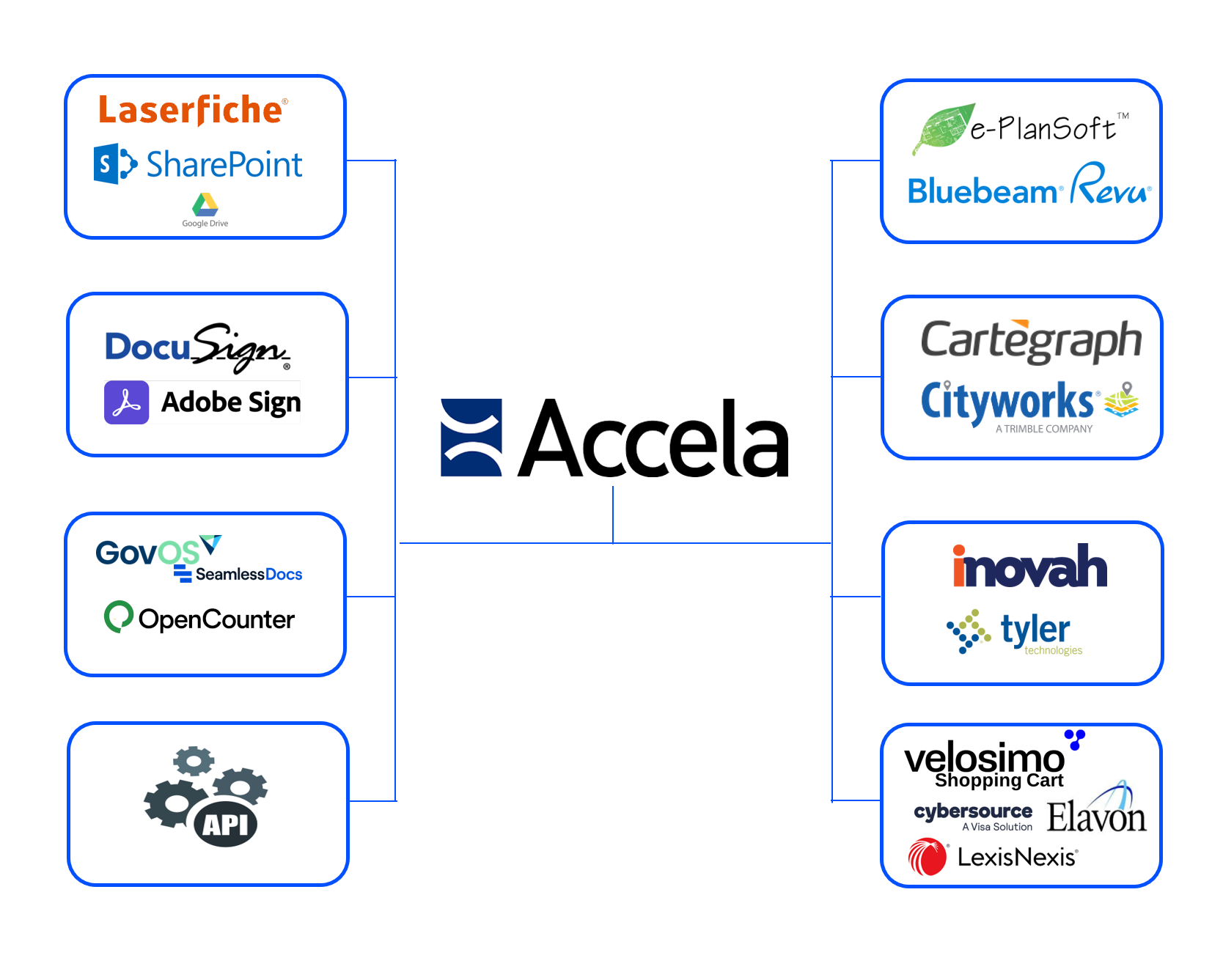 It's quick and easy to integrate your Accela Platform
Integrate Accela at your Agency Today!
Dozens of No-Code Accela Integrations for your Agency
Velosimo is a Microsoft Office 365 Government Community Cloud (GCC) and Cloud Solution Provider Partner (CSP)
"This has saved us a lot of time…citizens as well… because it only takes a few minutes to send and receive a signed permit back"
"It's a high-impact connection...we save employee file management time by 90%"
"Quick wins without adding resources... Velosimo's pre-built connector provided Macomb County with a hassle-free experience"