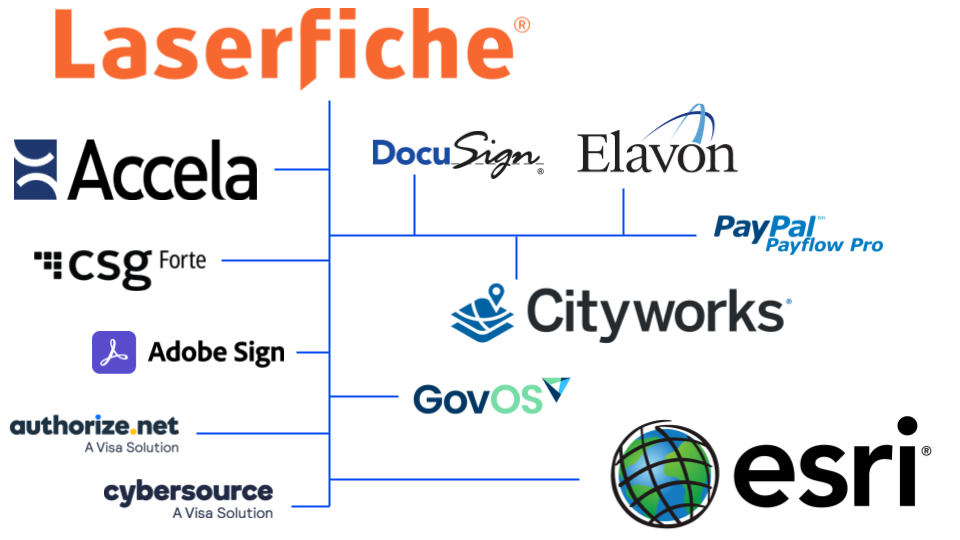 Laserfiche Integration Solutions for Government: Streamlining Processes and Enhancing Citizen Services
Laserfiche no-code, easy-to-use, off-the-shelf integration connectors built for the business user in Government. Easy to set up so your agency and citizens realize the benefits quickly from a growing collection of integrations from Laserfiche to solutions for Permitting and Licensing, Digital Citizen Services, and Electronic Payments, including CSG Forte, GovOS SeamlesDocs, Accela Civic Platform, Paypal Pay Pro Flow, Elavon, Visa Authorize.net, and Visa Cybersource.

Whether it's Laserfiche's Document and Records Management or Process Automation Forms and Workflow, we have no-code integration connectors that are quick and easy to set up, delivering value in record time:

Laserfiche Document and Records Management


Automatic synchronization of documents and meta-data between Laserfiche ECM

Accela Civic Platform

and

GovOS Studio.

Laserfiche Process Automation Forms and Workflow
Provide self-service and secure payments via your Laserfiche Forms and Workflow processes via CSG Forte, Elavon, Authorize.Net, CyberSource, and Payflow Pro.
"It's a high-impact Laserfiche connection"
"It's a high-impact Laserfiche connection… when an application is submitted, the connector utilizes metadata to create the file folder behind the scenes, uploads the document once, and it is available everywhere, with security and data in place."
"We save employee file management time by 90%."
"Staff was required to save all documentation in two locations, which was very duplicative and labor-intensive."
"Staff would skip a step, forget to save, or simply refuse to do it. We would have to manually update 50 or 60 Laserfiche documents."
Integrate Laserfiche at your Agency Today!