VELOSIMO CONNECT PLATFORM
Local Government IT System Integration Made Easy
Integration Obsolescence & Technical Debt
Today's Local Government IT departments require modern cloud integration solutions purpose-built for their use cases that offer tightly coupled no-code | low-code integration and application development services that are:
Easy to implement
Easy to maintain
Secure & scalable
Yet, technical obsolescence and debt are still common.
For example, it is well understood that Point-to-Point ("P2P") application integrations result in exponential technical complexity, significantly increasing the Total Cost of Ownership and risk to an organization's entire IT architecture.
However, existing cloud integration vendors provide Integration Platform-as-a-Service (iPaaS) and Low-Code Application Platform (LCAP) solutions as separate services purpose-built for private sector integration use cases, providing little-to-no support for standard government-focused SaaS and on-premise applications, business flows, and custom cloud app development requirements.
Current IT Architectures Are a Mess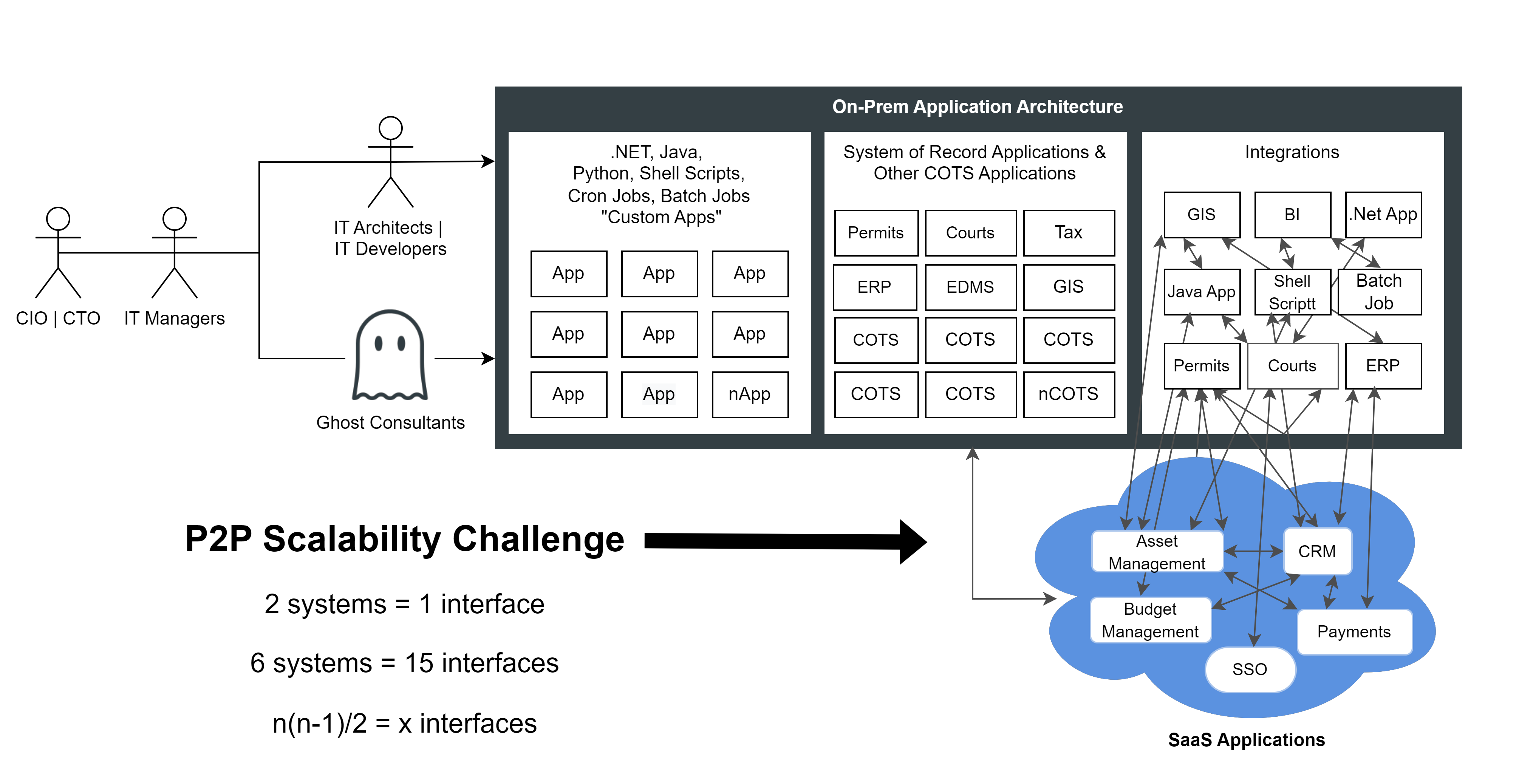 Your Future IT Architecture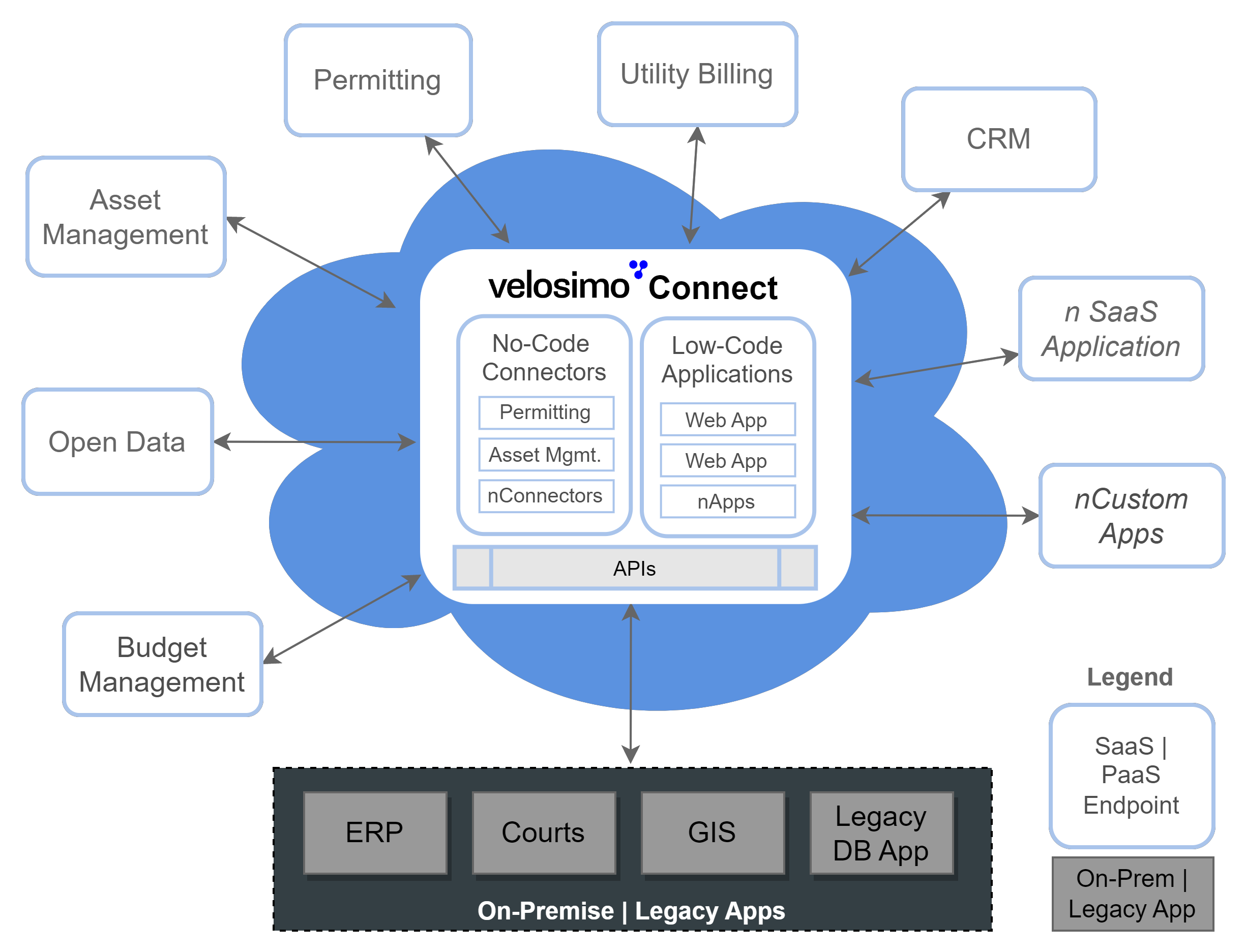 Modern Cloud Integration Services for Local Government
Velosimo was founded to be the strategic cloud integration partner Local Government IT leaders need to help digitally enable superior public services for the communities they serve with modern cloud integration services.

Velosimo's Connect Platform is the only No-Code | Low-Code Cloud Integration Service Purpose-Built for Local Governments designed to help build IT Centers of Excellence across the enterprise in:
System Integration
Data Extensibility
App Development
The Connect Platform's benefits include:
Speeding & derisking application modernization projects
Improving productivity & efficiency of senior and junior technical staff
Increasing the agility & responsiveness of IT organizations
Reducing the complexity & technical debt of IT architectures
Reducing long-term CAPEX & direct Labor costs associated with application portfolios
The Connect Platform includes pre-built No-Code connectors for standard GovTech applications and an integrated Low-Code application development environment for quickly and effectively composing cloud-native custom applications.
Ready to streamline your agency's workflows?
The Connect Platform is the perfect choice for forward-thinking government agencies leveraging the latest technology to improve their workflows and processes. Don't miss out - schedule a demo today!
Velosimo Connect Platform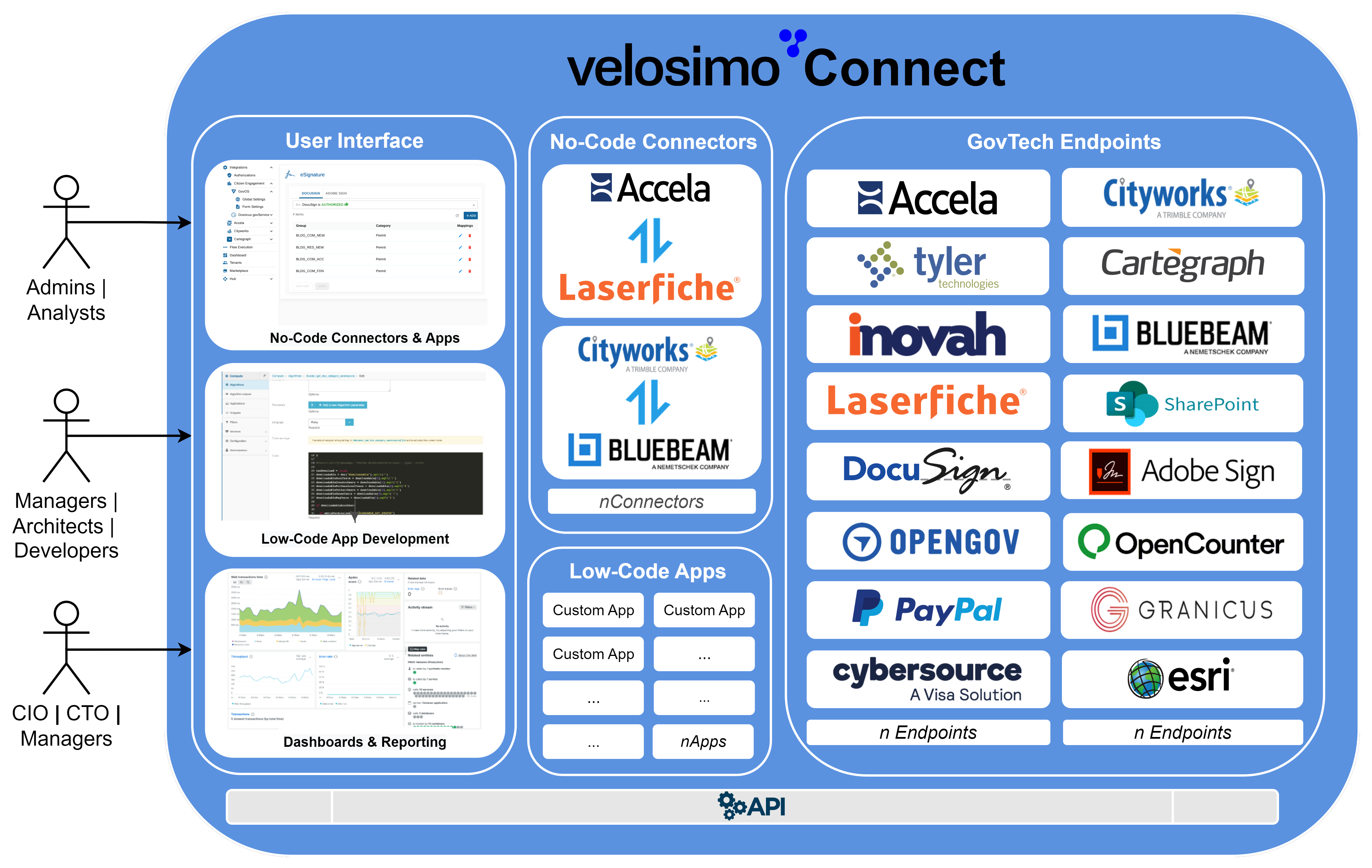 To learn more about the Velosimo Connect Platform for your agency, please contact us today!
CONTACT US