Document Management Seamlessly Integrated
Revolutionary Integrations for Document Management Solutions
Document management solutions are a cornerstone to today's government services playbook with the covid-induced need for touchless digital services. An example of true enterprise software embraced across departments, modern document management solutions impact agencies broadly and with tremendous and immediate value.
However, to fully exploit that value, modern document management solutions need to be seamlessly integrated into daily government processes for permitting, licensing, financials, human resources, procurement, and more.
Velosimo's off-the-shelf integration connectors for document management solutions provide that seamless process integration, with two-way synchronization of documents and metadata while taking full use of the automation capabilities of the system of record, providing a modern, uninterrupted experience for staff and customers.
And these revolutionary integration connectors are no-code, which means government business leaders set up the mappings and enjoy same-day benefits, with the peace of mind knowing the interoperability is handled by Velosimo's platform, with self-healing, deep insight, and future proof through future systems versions.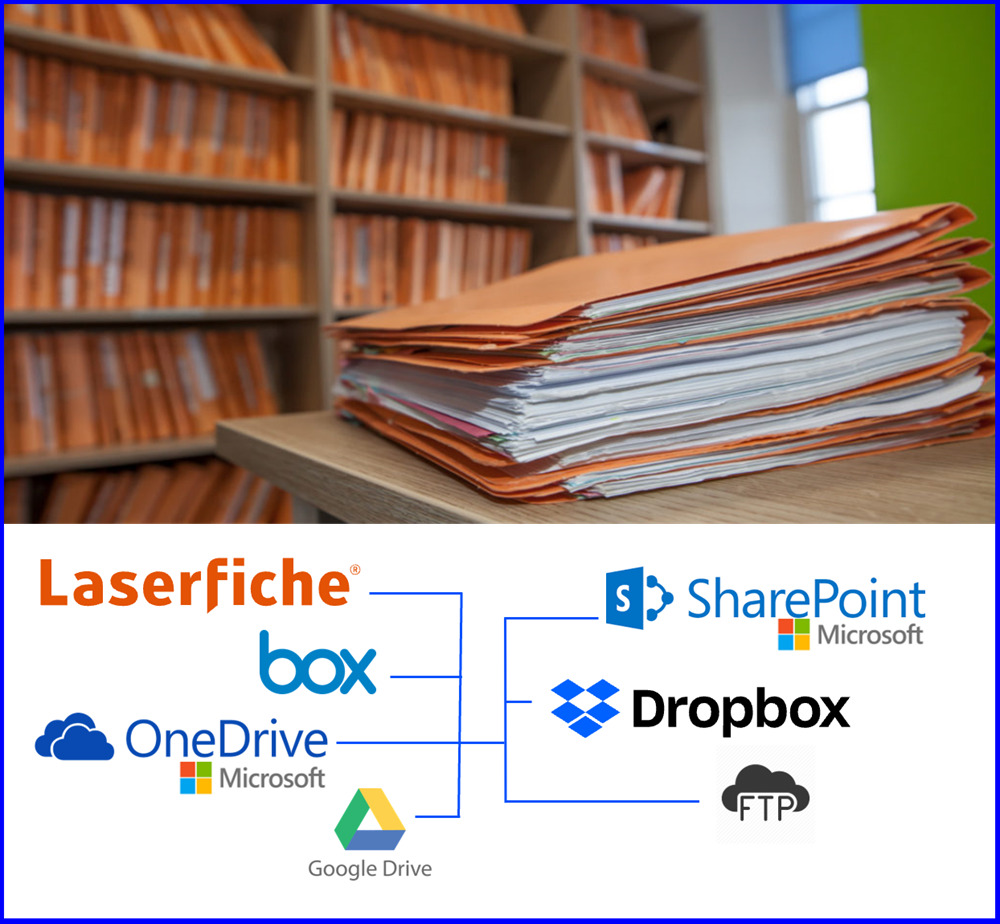 Velosimo integrations for document management provide value to Agencies
Time savings for staff and citizens
Eliminated manual tasks and redundant work
Eliminated process confusion while increasing satisfaction
Utilizes existing system workflows and other agency-specific configurations
Transfer data from Document metadata and Permit/License record metadata from the system of record to document management system.
Quick and easy setup and maintenance designed for business users
Easily update and maintain integration mappings using a no-code UI designed for business analysts.
Insight into transactions, smart recovery activities, and connected system outages
Velosimo is a Microsoft Office 365 Government Community Cloud (GCC) and Cloud Solution Provider Partner (CSP)
"It's a high-impact connection"
"It's a high-impact Laserfiche connection… when an application is submitted, the connector utilizes metadata to create the file folder behind the scenes, uploads the document once, and it is available everywhere, with security and data in place."
"We save employee file management time by 90%."
"Staff was required to save all documentation in two locations, which was very duplicative and labor-intensive."
"Staff would skip a step, forget to save, or simply refuse to do it. We would have to manually update 50 or 60 Laserfiche documents."
We have readymade no-code integrations for Document Management Solutions Laserfiche, Microsoft Sharepoint, and OneDrive, Google Drive, Box, and Dropbox. And more coming soon!
It's quick and easy to integrate document management solutions
Integrate Document Management at your Agency Today!